Check out the St. Andrews Society of Baltimore NEWS.
---
2022 Kirkin' o' the Tartan St. Anne's Episcopal Church Annapolis
June 19, 2022
After a long hiatus due to the recent epidemic, we have resumed our tradition of Kirkin' o' the Tartan. The Society gathered at St. Annes for the ceremonial blessing of representative tartans. As many will recall, this is primarily a North American tradition begun in 1941 to raise funds for British War Relief. Our next Kirkin' is scheduled for 20 November, 2022 at the Cathedral of Mary Our Queen in north Baltimore. Details will be forthcoming as the time approaches.
---
2022 Challenge Charger Award Presentations
June 18, 2022
After a three year hiatus due to the COVID epidemic the U.S. PIPING FOUNDATION CHAMPIONSHIP COMPETITION resumed at the Essex Campus of the Community College of Baltimore County. Nine professional competitors presented examples of traditional pipe music in the "Piobaireachd" and "March, Strathspey & Reel" genres.
Your Foundation provides the USPF with $5000 annually as part of SASB's Education & Heritage outreach and sponsors the Challenge Charger award. In the photo above, President Ernie Brandt is congratulating Nick Hudson of Texas who is the 2022 U.S. Piping Foundation winner of The St. Andrew's Society of Baltimore "Challenge Charger" for Professional March, Strathspey & Reel.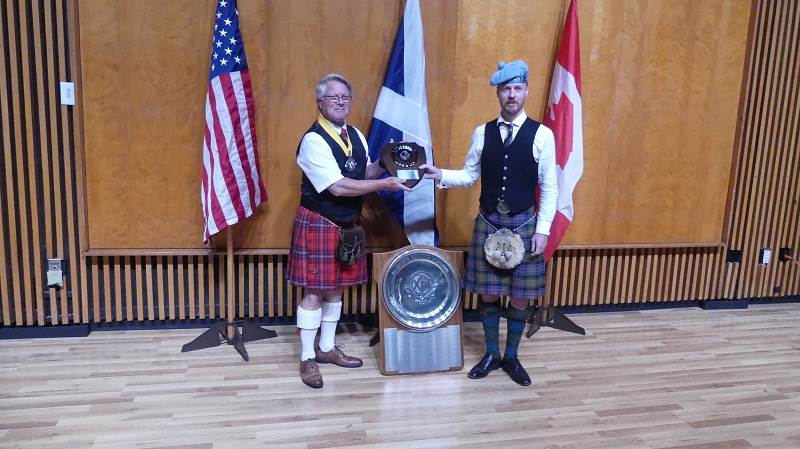 Ernie Brandt presents the Charger to Nick Hudson, winner of the March, Strathspey, and Reel competition.
---
Thank you for visiting our NEWS page!